OPEN CAR SHOW - ANY VEHICLE - ANY YEAR

BEST OF SHOW AND OTHER TROPHIES WILL BE AWARDED
SHOW CAPACITY 45 CARS
Saturday November 14, 2015
5:00 PM – 10:00 PM
RAIN OR SHINE
Homestead Main Street

DETAILS BELOW
JUST ANNOUNCED!
FREE HAMBURGER! The restaurants competing in the Burger Battle On Krome have just announced that they will provide a FREE hamburger to each of the registered car show drivers!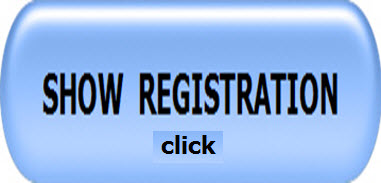 PRE-REGISTRATION IS NOW CLOSED - THANK YOU TO THOSE THAT PRE-REGISTERED

REGISTRATIONS ACCEPTED AT THE DOOR ON A SPACE AVAILABLE BASIS
GREAT DOOR PRIZES!

WE WILL BE GIVING AWAY AMONGST THE PRE-REGISTERED CARS, FOUR 3-DAY TICKETS TO THE FORD CHAMPIONSHIP WEEKEND ON NOVEMBER 21-22-23

THESE TICKETS [$150 VALUE EACH] WILL GIVE THE LUCKY WINNERS, ACCESS TO ALL THREE RACES OF THE EVENT - THE FORD
EcoBoost 200, 300, and 400
!
IN ADDITION - THESE 4 TICKET HOLDERS WILL BE INVITED TO REGISTER FOR THE 2015 FORD CAR SHOW ON NOVEMBER 22nd FOR ONLY $30 (Regular $80)

THESE ARE THE DETAILS FOR THE 2015 FORD CAR SHOW AT THE TRACK ON NOVEMBER 22nd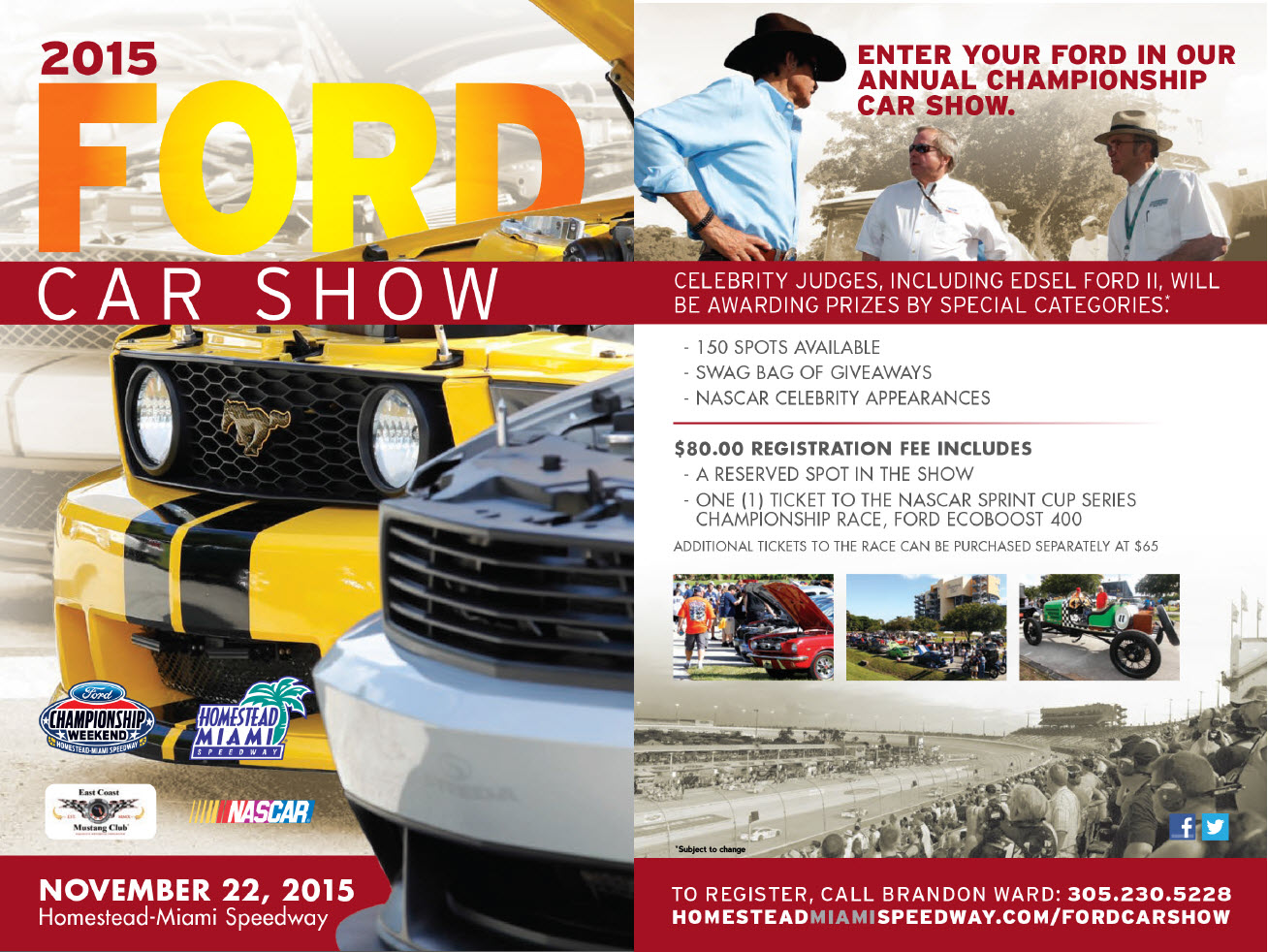 THESE ARE THE DETAILS FOR THE BURGER BATTLE ON KROME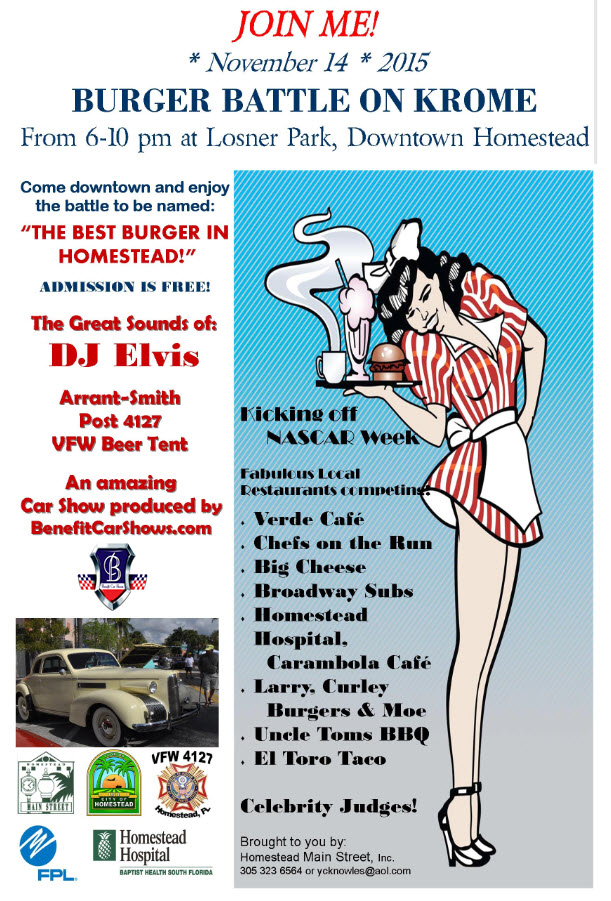 MUST BE PRESENT TO RECEIVE TROPHIES
THIS IS NOT A CRUISE-IN - VEHICLES MUST STAY UNTIL END OF SHOW

Fire Extinguishers Required
Insurance Required
No Alcoholic Beverages
No Pets
Club Tents NOT Allowed
No Individual Music from Cars or Other Sources (Show Music Only)



THE SHOW FIELD HAS MOVED ONE BLOCK OVER - YOU WILL BE DIRECTED WHEN YOU GET TO THE 4TH STREET ENTRANCE

Homestead Main Street
Losner Park on Krome Avenue
41 N. Krome Avenue
Homestead, FL 33030
YOU CAN START PARKING YOUR CARS WHEN THE STREET CLOSES AT 4:00 PM
COME AND ENJOY THE LIVE MUSIC AND FESTIVITIES
SHOW DOORS CLOSE AT 6:30



SOME OF THE CARS THAT HAVE REGISTERED FOR THIS SHOW
TO PAY FOR A REGISTRATION OR TO ADD AN ADDITIONAL DONATION
PLEASE CLICK ON THE BUTTON BELOW AND ENTER THE TOTAL REGISTRATION AMOUNT OR THE DONATION AMOUNT IN THE DONATION FIELD
IF YOU DON'T HAVE A PAYPAL ACCOUNT, YOU CAN PAY WITH YOUR DEBIT OR CREDIT CARD
CLICK FIRST ON THE BUTTON ABOVE AND THEN ON THE "Don't have a PayPal account?" LINK

HOME
ABOUT-US
CALENDAR
SPONSORS
MORE SHOWS
CLUBS
GALLERY
LINKS
Terms of Use Disclaimer Privacy Policy Contact Us
Copyright © 2012-2015 Benefit Car Shows - All Rights Reserved
This page last updated on 10/30/2015

Click here to report problems with this web page








Home Page Counter



counter tumblr
Visitors to the Burger Battle On Krome Page since: 11-10-2013





counter tumblr